Count out three…or maybe four
For Week 9: Count out three blog challenge we visited many different blogs but here's a summary of four of the blogs we visited and commented on.
Learning2gether is a class blog in Victoria, Australia. They recently wrote a post called, "Persuasive Texts" and commented on it. They wrote whether a cat or dog makes a better pet. This post had very good facts and details. Many of us think a dog (19 out of 24) makes a better pet, although this post made a great argument for why a cat makes a better pet.
We also visited Grade 6B, American School in Vietnam. There are some beautiful pictures on their About Us page of places in Vietnam. There was one post called "Hidden Talents" and it two questions. One asked if we had a talent show at our school and the what talents we had. A lot of school do have talent shows. We don't have a talent show but we do have a show called the Curie School Play.  The fifth graders act and dance, and the rest of us just dance to different music. It's a ton of fun! In fact, it's coming up next week.
Yeat 6 at Penbank in Australia is a really cool school. They have a creek with frogs running through their campus. They have cows, guinea pigs, sheep, a hamster, and even a little dog in their classroom. They also have a real grass soccer field. We only have dirt and the blacktop. You can't slide tackle or anything on it. We commented on their "About Me" page. We said that they are really lucky to have a soccer field.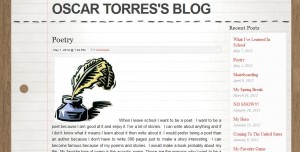 Finally, we will tell you about Emerson Eagles class blog. We commented on a post called "Poetry". Oscar wants to be a poet when he grows up because he loves writing poetry.. He'd rather do that than have to write a 300 page book!
We really enjoyed traveling the globe and visiting everyone's blogs!