Surfing is lots of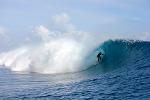 fun! I have been surfing since I was 5 years old, and now I am 8 years old! Can you believe that! My favorite beaches are La Jolla Shores and Mission Beach in San Diego, California. I have actually surfed in Hawaii before.
I have two surfboards, one is a BIG long board I call, Blue Hawaiian, and my short board I call, Surf Diva. I call Blue Hawaiian, Blue Hawaiian because, it is blue and says Hawaiian on it. I call Surf Diva, Surf Diva because we spray painted it and we put a sticker on it that says, Surf Diva.
I caught my first wave when I was 6 years old. I was very exited when I stood up, that is actually how I got my short board, Surf Diva. I love surfing and surfing is my passion.